Lucky Bastard Custom Boots
About Me
Lucky Bastard Custom Boots
Denver, Colorado
Well I guess it all started in my early 20's when I developed an obsession for vintage clothes. For over ten years I collected and sold my vintage treasures. In those days, when I left the house I was adorned head to toe in classic threads.

Of all the styles I pursued, western wear was my favorite. From plain work clothes to fancy embroidered gabardine, I was infatuated. And of course, cowboy boots were a big part of the ensemble.

The problem was finding a pair of classic boots in my size that weren't about to blow their stitches. And when you're wearing fifty year old boots, you tend to be on a first name basis with your cobbler. I guess I was there often enough to develop an interest in shoe repair.

So I spent a couple of winters in my off season learning the art of boot and shoe repair. But I knew all along that I really wanted to learn how to make cowboy boots.

One day a very random inquiry led me to master boot marker Dave Hutchings. I apprenticed with 'Hutch' and learned through traditional and age old methods, the art of custom boot making.

Later on I was off to Saint Jo, Texas to train with master boot maker Carl Chappell. 

And today I combine all that I've learned to create my original boots.
---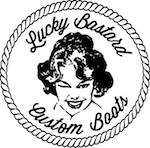 Denver, Colorado